The metropolis of historical Moravia and the second largest city in Czechia - Brno has population of about 400.000 people. Its modern history is more than 800 years long. The city has always been an important trade, administrative, transport and cultural centre. It was one of the first industrial points of the former Austrian-Hungarian Monarchy. At the present time, the educational function represented by 84.000 university students is the most important in the city. This potential is completed with 13 institutes of the Czech Academy of Sciences and with the Czech Technological Park. Social infrastructure includes 6 public and state universities, 15 colleges, 12 hospitals, 14 theaters, 38 galleries, 16 museums, 60 churches, 43 public libraries and a zoo. The commercial tradition is represented by Brno Trade Fairs (23 different types of events per year).
| | |
| --- | --- |
| | |
| Brno, Fair grounds (source: Czechtrade) | Brno, the Freedom Square (source: Wikimedia Commons) |
Brno is known as a venue of various scientific, cultural and sports events. One of the Motor-cycle Word Championship races takes place at the Brno Racing Track every August. Brno has an ex-cellent road, train and bus connection and the international airport Tuřany with regular connections to London (Stansted, Luton), Moscow (Vnukovo) and Eindhoven. City transport operates 12 tram-way lines, 13 trolleybus lines, 41 bus lines, 11 night bus lines and 1 ship line.
| | |
| --- | --- |
| | |
| The main building of the Mendel University in Brno (built 1915) | The "Q" building, where the conference will take place |
TRAVELLING BY BUS AND BY TRAIN
In case you travel by bus you will arrive either at "ZVONARKA" bus station or at "Benešova tř. hotel GRAND" bus terminal. Both are situated in the city center. From Zvonařka to the Mendel University you can take tram no. 9 going to the Lesná. Get off at the stop "Zemědělská". If you arrive at Benešova tř. hotel GRAND or by train at Brno hl.n. (main railway station) you can also take tram no. 9 and do same as indicated above.
Kindly check this website: http://jizdnirady.idnes.cz/brno/spojeni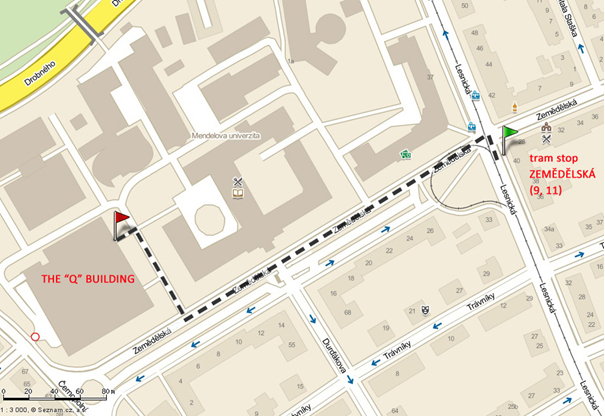 How to get from tram stop to building "Q"